This rice cake recipe is the apogee of rice cakes, I don't think it can get better than this. Besides being very delicious, it is the best snack you can have during bike riding, light for the stomach, contains enough sugar and complex carbs that will keep high the level of sugar in your blood.
And the best part of it is the combination between the coconut and apple taste!
I saw this recipe on the GCN channel and was one of the best inspirations ever. You definitely get one step closer to being a pro just by eating this for breakfast. 😀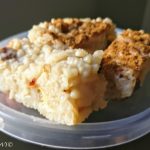 Rice cake
Servings: ~12 pieces
Cooking time: ~20 min
Difficulty: easy
Ingredients
125 grams of risotto rice
125 g of apple juice
120 g of water
150 g of coconut milk
raisins to taste
dried apples to taste (I dry my own, thin slices left in the sun for 2-3 days)
muscovado sugar to taste
cinnamon for the top
a pinch of salt
Directions
Wash the rice really well.
Bring the rice with the coconut milk, apple juice and water to a boil, then turn it down to low (I use setting 3 out of 10) and simmer it until it gets soft (even in the middle). Usually the minutes recommended on the package are more or less correct.trick for the coconut oil is to freeze 150g (125g works too) in yogurt cups for future use. It is a perfect way to prevent it from spoiling and always have at hand the coconut milk when you need it.
Let it cool down for max 10 min.
Add a pinch of salt, the raisins, apples, brown sugar to taste, making it a bit sweeter than normal, because it will taste less sweet when cold.drying the apples I use a cardboard "tray" and cover them with baking paper to prevent flies from touching them. I let them dry for 2-3 days in the sun on my drying clothes rack and hold the paper with the clothes hooks 😀
Put it in a plate and let it cool down a bit more, before you shape it in a rectangle that is easier to cut.
Sprinkle some cinnamon on top (I leave half without cinnamon since I love both versions) and keep it in the fridge for ~8 hours covered with a plastic wrap.
Some nice variations are: replace raisins with dried sour cherries and the cinnamon on the top with ground cardamom mixed in the rice. It gives it an awesome taste and it is very nice for a change, only so that I don't get bored with the same recipe 🙂
Or: replace the apple juice with water and 1/3 of the coconut milk with peanut butter. Add a bit of vanilla essence and serve with sesame seeds: