This recipe is a perfect snacks if you are on a low carb diet. It doesn't contain any added sugar, only the sugar from raisins and goji fruits and it is high in fiber and fat. Therefore it is a very filling snack.
It is meant to be served cold, directly from the fridge and, even if you are not on any type of diet, it is a very crunchy delicious snack. A bit bitter at first, but the blend of many seeds plus the raisins will give it enough sweetness.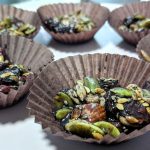 Raw low-carb cookies
Servings: 6 pieces
Time: 15 min
Difficulty: easy
Ingredients
2 tbsp of melted coconut oil
1 tbsp of cocoa powder
1 tbsp of sunflower seeds
1 tbsp of pumpkin seeds
1 tbsp of flax seeds
1 tbsp of chia seeds
1 tbsp of raisins
1 tsp of goji fruits
6 hazelnuts
Directions
In a small bowl mix the melted coconut oil with the cocoa powder.
Add all the seeds and fruits, except the hazelnuts. Mix them well, without crushing the seeds.
In 6 small muffin papers, add one hazelnut in each.
Pour the mix with a teaspoon in each form in equal quantities.
Let it rest 1 hour in the fridge and it is ready to be enjoyed.