Mujaddara is an incredibly easy and fast to make meal. The Middle-eastern spices give it such a nice exotic flavor, that embrace the simplicity of this dish.
It is very tasty and goes perfectly with a squeeze of lemon and sour cream. Even as a side dish next to a piece of pork cooked for 2 min on very high fire.
Here's how to make this incredibly cheap meal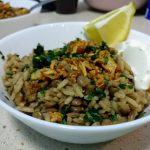 Mujaddara
Servings: 6 (0.45 eur/portion)
Cooking time: 35 min
Difficulty: easy
Ingredients
3 red onions (0.5 eur)
1 cup of brown lentils (0.5 eur)
1 cup of rice (0.2 eur)
1/2 tsp of cinnamon
1 tsp of powder cumin
2 laurel leaves
1 tbsp of frying oil
To serve with:
caramelized onion
parsley
lemon (0.5 eur)
sour cream (1 eur)
Directions
Start sauteing one red onion in a bit of oil until it gets soft.
Add the washed lentils.
Add 3-4 cups of water and season with salt. Bring it to a boil and cover it with a lid. Cook it on small-medium fire for 15 min.
Add the cumin, cinnamon and laurel leaves.
Add the washed rice and cook it for as long the rice indicates on the package with the lid on.
And magic! It is ready to be served. You can caramelize your own onion, I had it store-bought. Sprinkle parsley and lemon juice and serve it next to a big blob of sour cream. Or even as a side dish for meat!

If you would like to check out more of my international cuisine tries, you can check the recipes here.