One of the other super simple, but delicious desserts from my childhood is the semolina with milk: ready in no time and very satisfying to eat.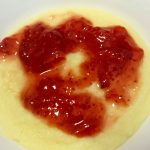 Semolina with milk
Servings: 2
Cooking time: 10 min
Difficulty: easy
Ingredients
500 g of milk
50 g of semolina
1-2 tbsp of sugar
1 pinch of salt
vanilla essence
1 tsp of sour cream
jam or cinnamon for the top
Directions
Bring the milk to a boil very slowly.
Add the sugar, vanilla and pinch of salt.
Pour the semolina in and mix in continuously on low to medium fire for max 5 min.
Add the sour cream.
Pour it in two bowls and let it cool.
Top it with jam or cinnamon (or both) and serve warm or completely cold and refrigerated.