This Romanian soup is made in a Greek style with egg, sour cream lemon and dill. It might seem it has lots of ingredients, but the result is really filling, fresh and delicious.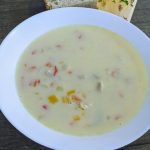 Romanian soup "a la grec"
Servings: 6-8
Cooking time: 1 hour
Diffculty: medium
Ingredients
chicken parts: ideally half a chicken, but can be thighs as well
2 peppers, better if they are from different colors
1 medium parsnip
1 onion
1 medium carrot
50 g of rice
2 egg yolks
150 g of sour cream with 35% fat
50 ml of fresh lemon juice
1 tsp of salt
freshly ground pepper
fresh dill (skip it if you don't like it)
Directions
In 2.5 l of water start boiling the meat with 1 tsp of salt.
In the meantime, cut all the veggies. It is best if you grate the carrots for a better color.
When the meat is ready, take it out from the water.
Take the meat off the bone.
When the water is boiling again, add the veggies in. Add the laurel leaf now as well, if you like it.
After 10 min of boiling, add the rice and the clean meat.
Mix the sour cream, egg yolks and the 50 ml of fresh lemon juice.
Add in the well mixed sour cream liquid from the soup to temper it. Add continuously and mix well until you add 1/3.
Then pour the tempered liquid in the main pot. Before that, check that the rice is ready and fully boiled.

Do not boil the soup from this point on, keep in on small fire.
Check if it needs more salt, add fresh pepper and freshly chopped dill (optional).
Serve hot!