As exotic as "Lebanese cuisine" sounds, I think Baba ghanoush became a really common dish in the whole Europe. And I am so happy for it! In order to celebrate my love for baked eggplants, I am going to create a tag to have all the recipes at hand: eggplant.
This dish is lovely and it certainly makes me to want to know more about their cuisine. It is good for everybody, vegetarians, vegans, low-carb and keto diets and works so good as a snack next to a cup of tea. It is traditionally made with pomegranate molasses, but I would honestly not even know where to start to look for this ingredient, so I make it without it.
Except the process of baking the eggplants, making Baba ghanoush is very simple!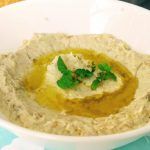 Baba ghanoush
Servings: 6
Baking time: 20 min
Preparation time: 20 min
Difficulty: medium
Ingredients
2 big eggplants
2 tbsps of tahini
1 tbsp of yogurt
2 cloves of garlic
juice from one lemon
salt
Directions
Bake the eggplants on big fire on every side, until they get soft and the outside burnt. If you don't want to smoke your house or don't insist to have the smoky taste, you can poke them with a fork and bake them in the oven.
Peel the skin off while they are still hot and let them drain for 20 min.
Cut the eggplants finely with a knife or mash them with the potato masher.
Grate the garlic, mix it with the tahini and lemon (not all the juice, you might make it too sour, you can add more later).
Add the eggplant and yogurt and start to add salt and more lemon to your taste.
Let it cool for two hours in the fridge , sprinkle some olive oil and your favorite herbs on and serve it with bread or vegetables (carrots, celery sticks…).