Andalusian puchero is such a great discovery in my life, but also one of the most complex foods I ever encountered. It is not complex from the point of view of cooking it, but how many types of food you can create with just one dish.
Puchero, which means "stewpot" is basically a soup that contains chickpeas, multiple types of meat, bones and bacon and other vegetables. However, in the cooking process it can be split in the following parts:
caldo – this is basically the liquid or broth that can be eaten as is
caldo + some of the chickpeas – this is a soup that can have added to it a boiled egg, jamon and noodles
in the final step rice can be boiled with the chickpeas and can become a stew
pringa – this is basically the meat used for the stew, it can be any type of meat: pork, beef, turkey, chicken, sausages. And it can be used for anything :D.
So you can now understand it's complexity. For this recipe I chose to use as meat bacon, pork and sausages and create from the puchero pringa sandwiches and chickpeas stew.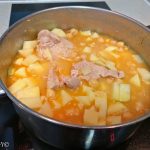 Andalusian puchero
Servings: 8 (0.77 eur/portion)
Cooking time: 3 hours
Difficulty: medium
Ingredients
meat (in my case pork fat, pork meat, chorizo and morcilla – blood sausage) (5.5 eur)
1.5 cans of dried chickpeas (0.4 eur)
1 twig of fresh mint
2 celery sticks (0.2 eur)
1 potato (0.1 eur)
salt
Directions
Leave the dried chickpeas to soak overnight.
In a big pot add the chickpeas, pork and bacon and cover it with water.
Bring it to a boil and start gathering the foam.
Let it simmer on small to medium fire for 1 hour.
After 1 hour add the mint and the chopped celery (I used frozen celery). Let it simmer for an other hour.
After another hour add the sausage and let it simmer with the soup for 15 min.
After that, set it aside. You can also take out the bacon at this stage, but let the pork in to get more tender.
At this point you should decide if you want to put some liquid aside for soup or if the liquid is just enough to make a stew once the potatoes are added.
Add the potato and salt to taste and cook it until the potato gets tender.
This whole thing should take for about 3 hours of simmering, enough time for the pork to get tender.
Take it out of the stew.
Now the options I opted for are the following.
Pringa – add half of the pork and sausages and a bit of fat and blend them until they get well chopped and combined (not a paste, though). Spread some fat on some toasted bread and add this delicious mixture and here you have the most delicious sandwich on Earth.
Puchero stew – serve the tender chickpeas and potato stew with some of the blended pringa and chop some of pork, chorizo and morcilla that were not blended. The intense flavor might surprise you!