Middle Eastern cuisine shines again. Falafel is a great and very tasty dish. A wonderful imitation of meatballs, but a special dish in itself.
It can be eaten in many combinations or just by itself and it is hard not to fall in love with it.
Add if you completely remove the flour or add a different type, they can even be a great option for low-carb food!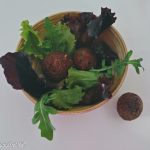 Falafel pita
Servings: 12-15 pieces
(3 pieces per pita cost ~0.3 eur)
Soaking time: 24 hours
Waiting time for mixture: 2 hours
Cooking time: 5 min per batch – 15 min total
Ingredients
1 cup of dried chickpeas (0.5 eur)
1 yellow onion (0.2 eur)
4 cloves of garlic (0.1 eur)
3 tbsp of chopped parsley (0.5 eur)
2 tbsp of chopped coriander (0.2 eur)
1 tsp of sweet paprika
1 tsp of salt
4 tbsps of flour
1 tsp of baking soda
2 tsps of cumin
chili flakes (optional)
Directions
Let the dried chickpeas to soak in water for 24 hours. Overnight should suffice too, but they will taste less strong and be smoother if you let it soak longer. After 16 hours they looked like this:
Blend the chickpeas with the chopped onion, garlic. Add the baking soda, flour, salt, paprika, cumin and chili flakes.
Blend in the coriander and parsley, too.
It should look like a smooth paste.
In order to let the tastes combine, cover it and let it rest in the fridge for 2 hours.
There are two methods of frying them:
a) flat shapes in a flat pan with little oil until they get crispy
b) round balls in a deep pan with enough oil to cover them, until they get golden
7. For the tortilla ingredients, I find that it works best with roasted pepper, tomatoes and cucumbers, plus a bit of tahini. And the biggest addition is a dressing made of: chopped mint, with yogurt, a splash of lemon juice, salt and 1 tbsp of olive oil.
8. It can be eaten in so many combinations, but the pita one is truly great and rewarding!