I have recently tried this New Mexico dish and I fell in love with it. So I wanted to learn how to make it myself and add it to my recipes repository.
You will need for this dish not only zucchini (like I used), but also summer squash. Instead of normal peppers like I used, you will need poblano peppers. So my recipe is far from original, but fresh and so tasty nonetheless. And so fast to make!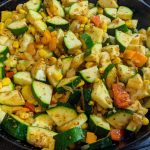 Calabacitas
Servings: 4
Cooking time: 15 min
Difficulty: very easy
Ingredients
1 onion
few spring onions (optional)
2 small-medium peppers (ideally poblano)
2 zucchinis (ideally replace one with summer squash)
1 cup of canned corn
1/2 tsp of cumin powder
1 tsp of oregano
1 tsp of paprika (ideally ancho powder)
chili flakes to taste
salt and pepper
olive oil for frying
Directions
In a medium hot pan add the olive oil and soften the onion for a few minutes.
Add the diced peppers and cook them for 5 min.
Add the cubed zucchini, corn and the spices: cumin powder, oregano, paprika, chili flakes, salt and pepper and mix well.
Cook them for around 5-8 min. But make sure to check them so that they stay crunchy and do not get too tender.
It is ready! You can eat is as is as a warm salad or as a side dish. It is great to even pack to work and top with with some extra tuna. Absolutely delicious, the combo of cumin with oregano is so refreshing! I once tried them even in a falafel salad and it was a great meal.