The answer is "yes", ramen can be done under 15 min. The original recipes out there can take up to 12 hours for the broth only… and another few good hours for making the noodles at home.
However, if you are not that picky, don't want to spend so much on going to a Japanese restaurant to order one and are super much into the idea of ramen, there is a solution for you.
Here's my simple, but delicious  15 min ramen recipe!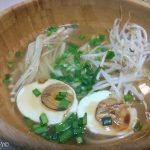 Ramen
Servings: 2
Cooking time: 15 min
Difficulty: easy
Ingredients
1 cube chicken stock
2 cloves of garlic
1 tbsp of ginger
4-5 chives (or more)
1 tbsp of soy sauce
2/3 tbsp of fish sauce
150 g udon noodles
enoki mushrroms
2 eggs
2 pieces of any type of pork meat you like (optional)
soy sprouts (optional)
sriracha sauce (optional)
sunflower oil for frying
Directions
Start boiling the eggs first. I boil them for 12 min and they come out hard boiled.
In a separate pot, dissolve the chicken cube in ~500 ml of boiling water.
In a different pot, saute in a tiny bit of oil the grated ginger and garlic and few chopped chives. It should not be more then 2 min and it should be on small fire.
Add the chicken stock and the soy sauce and fish sauce.
Bring it back to a boil and place the udon noodles directly in the stock. It might make it a bit thicker, but this is a fast recipe and result it's still great.
Make a wok very hot and cook the pork seasoned with salt and pepper on high fire for 1 min on every side, in a bit of oil. I use setting 8 out of 10. Let it rest until the noodles are cooked.
In the same wok, with the fire off, let the enoki mushrooms cook for 2 min. You can also add the soy sprouts, if you like to use it.
Place in a bowl the noodles and the stock, add an egg cut in half (I let it rest in soy sauce for color and saltiness), the enoki mushroom and cut pork and sprinkle generously with chopped chives.
This recipe is great with and without the meat. It goes great with some sriracha sauce, but even by itself it is very filling and the umami taste will certainly bring you joy!