Pulled chicken is an incredibly low effort meal and versatile. The traditional pulled meat is beef, but I like to mix it with pork. You can find my recipe for pulled beef and pork here. It is incredibly tasty especially due to the red wine additional. However, the pulled chicken is cheaper, lighter and can be used in as many combinations as the pulled beef: sandwiches, in combination with pasta or cous-cous, burrito or in any low carb combination, for example with broccoli or cauliflower. Or some very simple fried rice with carrots and egg:
It is true that it takes 3-3.5 hours to cook on low fire, but you can do that while you are home anyway and what matters the most is that the preparation is under 10 min.
Here's how to make it!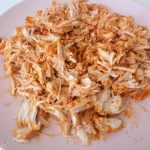 Pulled chicken
Servings: 8 (0.78 eur/portion)
Preparation time: 10 min
Cooking time: 3 hours
Difficulty: easy to medium (because of the cooking time)
Ingredients
1 kg of chicken breast (6 eur)
1-2 tbsp of butter (0.1 eur)
150 ml of tomato paste (0.2 eur)
1 tsp of paprika (your choice if spicy or smoked)
1 tsp of cumin
1/2 tsp of nutmeg
1 tsp of turmeric
salt and pepper
Barbecue sauce option (following Laura in the Kitchen recipe)
1-2 tbsp of butter
1 tsp of paprika (your choice if spicy or smoked)
150 ml of ketchup
some water
1 tsp of chili powder
1 tbsp of sweet paprika
1 tbsp of smoked paprika
2-3 tbsp of brown sugar
1 small onion
2 garlic cloves
2 tbsp of balsamic vinegar
oil for frying
salt and pepper
Simply saute your onion and garlic in the oil, add the rest of the ingredients, simmer for 20 min on low then blend them at the end.
Directions
In a spacious pot add the chicken cut into big pieces, season with salt, cumin, paprika, nutmeg and turmeric. Add the butter too. (Add only salt and pepper and paprika for the barbecue version).

Fry them on medium fire for like 5 min until they get a bit golden.
Pour in the tomato/barbecue sauce, season with pepper and bring to a boil.
Reduce on small fire (I used the setting 2 out of 10) and cover with a lid.
Cook for 3 hours and mix occasionally every 30 min. Here it how it looks after 2 and after 3 hours. For the last hour cook it without the lid on.

Pull it apart with two forks and enjoy it with your favorite side dish.
Here is how the barbecue version looks like: