This chicken burrito recipe is an inspiration from the Mexican burrito, but mainly an invention of my understanding of burrito. It contains chicken, rice, red beans and guacamole.
The trickiest and most difficult part of a burrito is the meat. I am using pulled chicken or pulled beef, they take long to be cooked and I have separate recipes for each:
Now that you have the meat out of the way, for the rest you just mostly need to use the imagination. Here's what else I put in my chicken burrito recipe!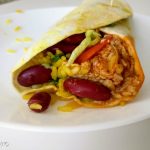 Chicken burrito
Servings: 2
Difficulty: easy
Ingredients
2 tortilla wraps (I choose different sizes, based on the person)
4 full spoons of pulled chicken
4-6 full spoons of cooked rice
4 tbsp of canned red beans
½ avocado
½ lime
garlic powder
salt
turmeric, cumin,paprika and a bit of oil for the rice
green salad, chives and tomatoes (optional)
Directions
Place the tortilla wrap on a plate.
In a heated pan, add a bit of oil and fry the cooked rice together with cumin, turmeric and paprika to taste. This should last for about 5 min.
In the meantime mash with a fork the avocado, add salt, garlic powder and lime juice to taste for the guacamole.
Clean the beans in water really well.
Add long row like in the picture of: chicken, guacamole, rice, beans with salad and tomatoes.

Sprinkle some lime juice and chives over the ingredients.
Wrap the tortilla horizontally at the bottom and then vertically the whole way and place it on its belly in the same hot pan where you made the rice in.
Cook it for 3 min then turn it on the other side and let it warm up 3 more min. Use a toothpick, if needed.
Serve hot immediately.
Turkey burrito
The turkey burrito idea is the following:
Cook the seasoned turkey with cumin and paprika, salt and pepper on high fire (8 out of them for max 3 min).
Cook the rice with turmeric and cumin directly into the boiling water.
Cook the beans in the sauteed onion + garlic + pepper and add at the end a bit of corn and tomatoes.
Service with a bit of yogurt and extra avocado: