This baked tomato soup is a very creamy soup, a great combination of roasted, smoothness of coconut soup and spiciness of ginger. I think it is a perfect dinner for a chill autumn night and hope you will enjoy it as much as I did.
Here's how to make it: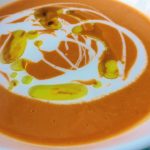 Baked tomato soup
Servings: 4
Baking time: 40 min
Total time: 1 hour
Difficulty: medium
Ingredients
4 big tomatoes
1 red onion
2-3 garlic cloves
1 small piece of ginger
1 pepper, ideally red
2-3 tbsp of olive oil
1 can of coconut milk
1 cup of chicken stock
salt and pepper
1 tsp of white vinegar
Direction
Cut the tomatoes in half, sprinkle on them some olive oil and salt.
Add on a baking tray the unpeeled garlic and the piece of ginger (make sure it is not very spicy, if yes, put less).
Bake for 20 min at 180 C.
After 20 min add the red onion and pepper, sprinkle salt and olive oil and bake for extra 20 min.
Once it is a bit cool, peel the skin of the tomatoes (not mandatory), the skin of the garlic and ginger and add them to a pot.
Add the coconut milk and stock, bring to a simmer and blend everything carefully until perfect smooth.
Add the vinegar and pepper and it is ready to be served.
Smooth and hearty!
Click here for more soup recipes.