This creamy baked carrot soup is an easy, warm and hearty soup, perfect for the rainy days in the autumn. It is very similar to the last posted soup with tomato as base ingredient, but somehow a bit creamier and gorgeous color. And the garam massala add to it that richness in taste.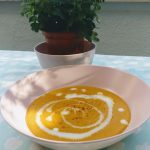 Baked carrot soup
Servings: 4
Baking time: 30 min
Total time: 40 min
Difficulty: easy
Ingredients
4 big carrots
1 yellow onion
2-3 garlic cloves
1 tiny piece of ginger
2 tbsp of olive oil
1 can of coconut milk
1 cup of chicken stock
salt and pepper
1 tsp of garam massala
red chili flakes for decoration
Directions
Cut the carrots and onion into slices, add the whole garlic, sprinkle olive oil.
Sprinkle salt and paper to taste and the garam massala and mix well.
Bake at 200 C for 30 min.
When ready, place it into a blender, add the chopped fresh ginger, coconut cream cup and very hot chicken stop and blend until very smooth.
Serve immediately decorated with coconut cream and red chili flakes.