This Czech dish is a staple of the Czech but also central and eastern Europe cuisine. Countries like Hungary, Slovakia, Romania, Germany have their own dishes with more or less the same ingredients. There is something incredibly satisfying about eating pickled cabbage with some smoked meat.
Here is how to make it: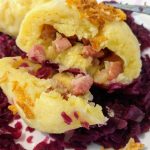 Potato dumplings with meat
Servings: 4 portions (~8-10 balls)
Preparation time dumplings: 40 min + boiling 15 min
Cooking time cabbage: 30 min – 1 hour
Difficulty: medium
Ingredients
For the dumplings:
800 g of boiled potatoes
2 eggs
200 g of flour
100 g of semolina
salt to taste
For the filling:
300 g of smoked bacon
1 onion
oil for frying
salt
pepper
Cabbage:
500 g of pickled cabbage (red or white)
1 tsp of caraway (can be seeds or powder)
sugar to taste, you have to be generous: 4-5 tbsp or more
salt
pepper
Directions
For the filling:
Cut the smoked meat into cubes.
Saute the onion in a bit of oil. Once soft, add the bacon and cook for few min.
For the dumplings:
Grate the potatoes and mix them with salt, the semolina and flour and the 2 eggs.
Break 1 tenth of the dough, flatten it and add some filling.
Carefully close it and roll it into a ball.
Add the balls into a big pot with boiling water.
Boil them until they come to the surface by themselves. Around 10-15 min.
For the cabbage:
Add the cabbage into a pot.
Cover it with cold water.
Add the salt, sugar, pepper and caraway.
Cook it with a lid on for 30 min to 1 hour or until the cabbage is very soft.
Serve it with the cabbage on the bottom and the dumpling on the top.