I discovered this tofu Masala recipe during my quest to like tofu. It is not my favorite ingredient, but it is so cheap, high in protein and an interesting replacement to meat. In this recipe it will be crispy on the outside due to the grilling and full of the delicious marinade and Indian sauce.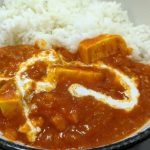 Paneer Masala
Servings: 3-4
Cooking time: 30 min
Difficulty: easy to medium
Ingredients
Marinade
2-3 tbsp of yogurt
1/2 tsp of garlic paste
1/2 tsp of ginger paste
1/2 tsp of paprika
1/2 tsp of turmeric
1/2 tsp of Garam Masala
salt
juice from half a lemon
For the sauce
2 tbsp of oil
1 bay leaf
1 tsp of cumin seeds
chili flakes
2 onions
1 tsp of garlic paste
1 tsp of ginger paste
200 ml of tomato juice or paste
1 tsp of paprika
1 tsp of turmeric
1 tsp of Garam Masala
1 tsp of coriander powder
1/2 tsp of cumin powder
1 tsp of sugar
black pepper and salt to taste
Directions

Make the marinade for the tofu: yogurt, garlic, ginger, paprika, turmeric, Garam Masala, salt and lemon juice.
Cube the tofu that you pressed with something heavy for min 30 min.
Coat each piece in the marinade and let it rest for 30 min.
For the sauce: saute the onions in the oil until they are very soft. Add the ginger, garlic, bay leaf,  cumin seeds and chili flakes.
Add the tomato sauce and the spices: paprika, turmeric, Garam Masala, coriander, cumin, sugar, black pepper and salt to taste.
Let it simmer for few min until everything is combined.
In the meantime, in a buttered pan, grill the the tofu on all sides.
Add the tofu in the tomato sauce gently.
It is ready to be served with rice and a bit of cream or coconut milk on top.