Mexican cuisine is absolutely great and from everything I tried so far the enchiladas are my favorite.
Such a surprise I had to realize they are even easy to make. I tried the red sauce ones with chicken, but if you replace the chicken with beans, for example, they will be even faster to make.
One tip – make the sauce for more portions, but keep it in the fridge and bake only as many enchiladas as you will eat in one go, otherwise they will get soggy.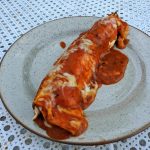 Enchiladas
Servings: 4 (2.2 eur per portion + chicken broth as extra)
Cooking time sauce: 15 min
Cooking time tomatoes: 25 min
Baking time: 20 min
Difficulty: easy to medium
Ingredients
Sauce
4 tomatoes (1 eur)
3-4 dried chilies (0.3 eur)
1 tsp of sweet paprika
1 cup of hot water (I used the broth where I boiled the chicken)
2-3 tbsp of flour
3 tbsp of sunflower oil
1 tsp of oregano
1 tsp of red paprika
salt and pepper
1 tsp of dried basil
1 tsp of ground cumin
2 garlic cloves (1 eur for all spices)
2 tbsp of ketchup
Filling chicken version

2 smalls chicken breasts
3-4 roasted peppers (I used from jars) (0.3 eur)
150 g of mozzarella (1.5 eur)
Filling beef version

4 thin steak of beef
8 slices of feta cheese
12 slices of canned jalapenos
8 tbsp of sour cream
150 g of mozzarella
Filling chorizo version

16 slices of chorizo
4 roasted peppers (I used from jars)
4 tbsp of corn (I use frozen)
8 slices of canned jalapenos
capers (optional)
150 g of mozzarella
4 tortilla wraps (0.5 eur)
100 g of cheese for the top (1.5 eur)
Directions
Sauce: Start soaking the dried chilies in warm water for 1 hour.
 Boil the tomatoes for 20 to 25 min (for the chicken version I  boil them together with the chicken).

Peel the tomatoes and add them to a blender together with the dried chilies, sweet paprika and a cup of broth.
Blend until smooth.
In a big pan warm the sunflower oil.
Add the flour and mix for 1-2 min.
Add the grated garlic and mix for max 1 min.
You can now pour in the tomato sauce and mix until the flour is combined – I used a whisk.
Season with salt, oregano, basil, cumin, more sweet paprika + ketchup and simmer for 5-7 more minutes, adding more water if needed (if it gets too thick).
Chicken version: Start boiling the chicken in a big pot in cold water. After 3-4 min you can add some bay leaves, whole pepper, salt and pepper and carrots if you want to use the broth as an extra chicken soup.

Shred the chicken and season with more salt and pepper if needed. I also add a pinch of ground cumin.

 Beef version: Slice the beef across the fiber and season it with salt and pepper. Cook it very high fire for 1 min maximum on each side.
On the bottom of your baking tray add two ladles of sauce.
Put some sauce on the tortilla wrap.
Add the filling.
Wrap it/roll it and place in the tray.
Repeat for all the portions you want to serve that day.
Add on top the tomato sauce.
And the cheese (you can of course add more if you'd like).
Bake at 180 C for 20 min.
Chicken version:
Beef version:
Chorizo version: