As weird as it might sound, the green salad soup exists and not only – it is a super fresh and tasty way of using the salad. I am categorizing it as Romanian food, since I did not see it in any other country. The combination of sour cream and dill is absolutely great. Here's how to make it!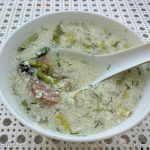 Salad soup
Servings: 4-6 portions
Cooking time: 50 min
Difficulty: easy
Ingredients
4 slices of bacon
one medium onion
1 clove of garlic
1 tbsp of flour
green salad (I used the two big salad hearts)
half a cup of sour cream (or more)
1 egg
fresh dill
salt and pepper
1-2 tbsp of vinegar, to taste
Direction
In a big pot start cooking the chopped bacon until it releases some fat.
Add the diced onion and garlic and cook on small fire until they slightly soften.
Add the flour and pour over 750ml-1 l of hot water and mix very well for the flour to combine well.
Cover it with a lid and let it boil for 10 min.
Break the salad with your hands into small pieces and after the 10 min have elapsed, add it to the pot, mix it in and let it cook for 15 min with the lid on an small to medium fire.
Mix the sour cream with the egg (I  put the salt and pepper in it).
Add the chopped dill, the sour cream mixture and turn of the fire.
Add 1-2 tbsp of vinegar.
Cover with the lid and let it rest with no fire under for 10-15 min, while the egg cooks slowly.
It is ready to be served.