Ever wondered what you can do with all the egg whites left from a recipe in which you don't need them: the answer is oatmeal protein pancakes.
I was really happy to realize that you don't need to throw away all those egg whites and reduce the waste as much as possible. Helps your budget and, in this case your silhouette too.
Egg whites are the part of the egg that contains only the protein. It has for about 16 calories per egg and 4 grams of protein. They are pretty amazing if you think about it. The yolks contain the rest of the calories, for about 50 calories extra and 2 more grams of protein and 5 grams of fat.
Besides the protein base, I use no sugar or flour for this recipe, just oatmeal and cream cheese/cheese so more complex carbs and fat that will give you a serious boost for the day.
Here's the recipe!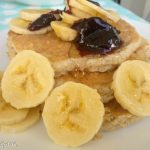 Oatmeal protein pancakes
Servings: 2 people (6-7 pieces)
Preparation time: 20 min
Difficulty: easy
Ingredients
5 egg whites
2/3 cup of oatmeal
3 big spoons of cream cheese (can be low fat if you prefer a lighter version) – replace this with grated cheese for the salty version
1 tsp of vanilla essence – skip this for the salty version
cinnamon – replace this with salt, powder garlic, cumin and paprika to taste
Directions
Foam the egg whites. You can also skip this step if you are in a rush, but foaming them gets fluffier results for sure.
Add the oatmeal, cream cheese, cinnamon and vanilla and stir them in slowly (or the cheese, salt, garlic powder, cumin and paprika for the salty version).

Let them sit for a bit until your pan warms up.
Add a bit of oil on the pan and fry them on each side until they golden.
Serve them with your favorite topping!
They taste unexpectedly good and work perfectly with bananas and a bit of honey.
The salty version goes amazingly well with cheese in the middle, that will melt and cheese on the top and some fried chorizo. Serve it with sour cream and thyme and you have a salty, delicious and healthy meal: