This salade de boeuf recipe is a Romanian version served at any holiday by most families. In reality, the Romanian salade de boeuf has nothing in common with any French version. Not sure where the name comes from, but is it called in Romanian "beef salad" and in reality it almost never contains beef, maybe chicken or no meat at all.
This salad is similar to the Russian salad that you can find in the Spanish supermarkets. So as you can see there's a pretty big mess when it comes to the origin of this salad.
I will show you how I like to prepare it. It is a refreshing, not too heavy salad, perfect for a summer lunch. It takes a bit of time to boil all the ingredients, but once you are done with that you can have 4-5 days of quick lunch.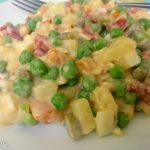 Salade de boeuf
Servings: 8 (0.63 eur/portion)
Preparation time: 2 hours
Difficulty: medium
Ingredients
3 big potatoes (~ 1 eur)
5 big carrots (0.3 eur)
250 g of frozen peas (0.5 eur)
300 g jar of pickled cucumbers (in vinegar) (1.2 eur)
300 g jar of pickled red pepper (roasted pepper in vinegar works too) (1 eur)
250 g of chicken breast (2 eur)
3 eggs (0.4 eur)
salt
For the mayonnaise
use two boiled yolks from above
2 extra raw egg yolks (0.25 eur)
1 tsp of sweet mustard
200 ml of sunflower oil (0.2 eur)
a squeeze of lemon
Directions
Boil separately the potatoes in skin, the carrots in skin and the eggs (hard boiled – for about 12 min from the moment of the water starting boiling).
Let them cool down and peel the skin off.
Boil the chicken with salt, whole pepper and laurel leaves until it gets tender.
Cut into small cubes all the ingredients: pickled cucumber and pepper, chicken, carrots, potatoes and eggs (reserve 2 yolks for the mayonnaise).
Add the frozen peas and let it thaw.
Add salt to taste and mix all the ingredients.


In the meantime, prepare the mayonnaise

Mix well with a wooden spoon the boiled and raw eggs and the mustard until they form a paste.
Start adding bit by bit the oil and mix in the same rhythm and direction. Do not add too much at a time, only maximum one teaspoon so that the water from the eggs and the oil can combine. Otherwise you risk cutting it.
This whole process will take 15-20 min, it is slow but the result is very creamy and nice.
Add a squeeze of lemon for better flavor and mix well.
Add the mayonnaise over the mixed ingredients and mix it in very well.
Let it cool for 2-3 hours to combine the tastes well and it is ready to be served.
Two egg whites will remain from this recipe. If you are wondering what you can do with the extra egg whites, you can check my pancake recipe here.