Focaccia is a very flavorful bread, so full of flavors that I often feel like eating it by itself. It is a simple recipe, however not light, it contains quite a bit of olive oil, which makes it a bit expensive. However, it is a wonderful treat to have from time to time.
I used a recipe from Gordon Ramsay.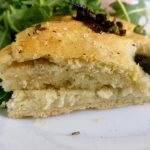 Focaccia
Servings: 8
Preparation time: 15 min
Proofing time: 1.5 hours
Baking time: 30 min
Difficulty: medium
Ingredients
500 g of bread flour
20 g of semolina
1 cup of water (~200 ml)
50 ml of olive oil
10 g of dry yeast
1 tsp of salt
tomatoes, olives, rosemary for topping
Directions
In a big bowl combine the flour, semolina, salt and yeast.
Add the olive oil in the lukewarm water.
Combine the water with oil with the flour mixture.
Knead for 6-8 min.
Cover it with a bit of oil, plastic wrap and let it proof until it doubles in size.
On a tray sprinkle some olive oil and big salt.
Place the focaccia on it and shape it with your hands. Poke holes in it with your fingers and place in those pockets your desired toppings.
Sprinkle on it olive oil, big salt and pepper.
Bake it at 200 C for 30-35 min.
Serve it hot or cold or even freeze it for later.