As boring as pasta with chicken and mushrooms sounds, as much it is going to rock your world! 😀
The secret of this recipe is indeed the mushrooms. You can use any type if white or cremini mushrooms, but the ultimate taste for this recipe is given by the boletus mushrooms. They are not trivial to be found and not too cheap, but I could find them in every country I lived so far and they are really having something in them that just makes wonders with the taste buds. (They are sold in normal supermarkets, so I am not talking about any type of special mushrooms :P).
The rest of the recipe is simple!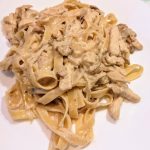 Pasta with chicken and mushrooms
Servings: 2
Difficulty: easy
Ingredients
150 g of tagliatelle pasta
1 onion
150 g of chicken breast
150 g of heavy cream
2-3 boletus mushrooms
oil for frying
salt and pepper
Directions
If your mushrooms are dry, follow the instructions on the package to knowing for how long to soak them. They can take up to 8 hours.
In a big pan start frying the onion until it is golden and almost caramelized.
Add the chicken cut into small pieces and cook it on high fire, so that it won't get chewy, but crispy on the outside and tender.
Put the mushroom in and season with salt and pepper.
Pour in the heavy cream and let them combine on small fire for 3-4 min.
Add the aldente pasta and let it combine for 3 min. Add more water from the pasta if you need extra creaminess.
And it is ready to be served: a very full meal with an amazing creaminess and flavor!