This might sound crazy, but can you eat nettle? And why would you when it stings so bad? Well, nettle is pretty delicious, in fact. It turns out to be just as good to make a soup as spinach or salad. Just like spinach, it is high in iron and contains other minerals and nutrients that is just a pity not to use when it grows literally everywhere.
In Romania, it is a pretty common ingredient for fasting soups. It is often served with a bit of vinegar and it just has some nice interesting kick in comparison to any other soups with greens. However, I like a bit of a more rich soup which contains milk, sour cream and egg. Here's how to make it.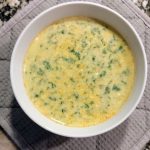 Nettle soup
Servings: 2
Cooking time: 20 min
Difficulty: medium (for picking the nettle)
Ingredients
fresh sprouts of nettle (100 g)
1 small onion
a small garlic
1 tbsp of sunflower oil
1/2 tsp of paprika
1 cup of milk
1 egg yolk
4 tbsp of sour cream
salt and pepper
Directions
Hardest part: pick the nettle. You definitely need gloves… we all know how horrible it is to be stung by a nettle otherwise. Pick young sprouts, not longer than your finger.
They smell very fresh and look so green and nice once you are done with the "dangerous" picking.
Wash them with cold water.
Boil them for 3-4 min then rinse them with cold water to stop the cooking. They will reduce very significantly.

In the same pot, saute the chopped onion until very soft then add the garlic.
Add the paprika and immediately the milk.
Once the milk is almost reaching boiling temperature, add the nettle.
Mix the egg yolk with the sour cream and temper it with the soup and pour it in the pot.
Season with salt and pepper and it is ready to be served.