The endives can be bitter, especially if eaten raw with no spices or dressing. I have discovered a great dressing that is both sweet and creamy that helps to transform that slight bitterness of endives into crunchy, healthy and delicious salad.
Here is how I prepare it!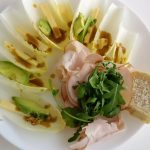 Endives with mustard dressing
Preparation time: 5-10 min
Difficulty: very easy
Ingredients
1-2 endives
cheese – cheddar, comte or even blue cheese
avocado
walnuts
for the dressing
1 tsp of mustard
1 tsp of sugar/honey/maple syrup (skip this if you want it low carb)
salt and pepper to taste
1 tsp of balsamic vinegar
1-2 tbsp of olive oil
Directions
Prepare the dressing: mix the mustard with the sugar and vinegar, add the oil bit by bit and incorporate. Add salt and pepper
Cut the bottom of the endive and take the leaves. Do not force them to come undone, but cut a bit more at the base until you get to the heart of it.
In the tiny endive boats put the cheese, avocado and walnut and sprinkle the dressing.
Serve next to a mean meal like steak, or for breakfast next to some charcuterie or even with eggs and bacon.