The American flap jack pancakes are the crepes of France: a basic recipe, but so fluffy and delicious you can't stop eating them. Not sure who invented pouring on them maple syrup, but that person was a genius.
The secret of making them so fluffy is simple: lots of baking powder. And baking soda…
I find that the full 300 g of flour is on the side of too much for 2 people, so you can try to reduce all the ingredients by 0.91.
In this version, I followed Joshua's Weissman recipe: link to his video.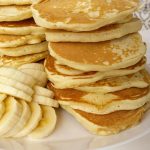 Flapjack pancakes
Servings: 14-15
Difficulty: easy
Ingredients
300 g of all purpose flour
12 g of baking powder
1 g of baking soda
62 g of sugar
4 g of salt (1 tsp)
386 g of milk
1 egg
21 g of melted butter
extra butter for cooking
Directions
Mix the dry goods: flour, sugar, baking powder, baking soda and salt.
Mix the egg with the milk.
Combine the dry and wet goods and at the butter at the end. The dough doesn't need to be mixed long.
Heat up the pan (I use two so that I make them faster): I use the setting 4 out of 6 to heat them up.
Put some butter in the pan and cook the pancakes: I use setting 3 out of 6.
Make sure to flip them fast, even though you might think they are raw, if you cook them on medium-high fire it is fine and better then having them dry out.
Serve them with maple syrup. Anything else is optional. Here is how fluffy the flapjack pancakes look like: