The Hungarian gulyas is been adapted differently in many cultures: Czechs have something completely different that have only the beef in common, for example. This recipe comes close to the original Hungarian one. It is the first time I made it and of course I made to rookie mistake to cut the carrot too small. It would not pass any Hungarian visual test, but the taste got to be confirmed that is delicious and close to the original.
Here is how I made it!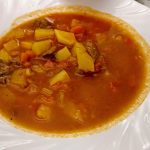 Gulyas
Portions: 4-6
Cooking time: 3 hours
Difficulty: medium
Ingredients
600 grams of beef, I use a cheap part of the muscle
1 big onion
a big red pepper
1 big carrot
1 tsp of powder cumin
1-2 tsp of paprika powder
1 spicy pepper
150 ml of tomato paste (better to use fresh tomatoes)
few laurel leaves
3-4 medium potatoes
oil for frying
salt and pepper
Directions
Start frying the meat in 1 tbsp of oil until it is not pink anymore.
Add the onion cut julienne and cook it for ~5 min until it softens. Add the cumin, too.

Cut the pepper cubes and the carrot in round pieces (not like me) – it won't affect the taste, it is only for esthetic purposes.
Add after only few min the paprika, tomato paste and laurel leaves. Optionally, a spicy pepper.
Cover with water and let it simmer on small fire for 2-3 hours or until the meat is soft.
Add the potatoes cut into small cubes.
After 5 min season with salt and pepper and let the potatoes cook until they are ready.
It is true that the Hungarian gulyas is long to cook, but it requires little effort and maintenance and it is very savory.