Pogacsa is one of the most traditional pastry dishes in Hungary. There are multiple versions of it, but one of the most representative is no other than paprika pogacsa. Of course :). And you have to understand Hungarians, paprika is an amazing invention and can be used in so many recipes.
This recipe doesn't need a lot of kneading. I would say that the most time consuming part is waiting for the dough to rise. Otherwise it is fairly easy.
Let's get to the facts!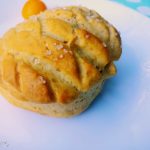 Paprikás pogácsa
Servings: ~12 pieces
Preparation time: 15 min
Kneading time: 5 min
Raising time: 1 hour
Baking time: 25 min
Difficulty: medium
Ingredients
500 g flour
100 g butter (you can use 125 g if you want is softer and more buttery)
1 tablespoon sweet red paprika
1 teaspoon salt
25 g yeast (7 g of dried yeast works too)
250 ml milk (you can replace 50 g of this with fat yogurt if you want a softer version)
a little bit of sugar
coarse salt and a little extra milk for the top
Directions
Activate the yeast with 100 ml of lukewarm milk and a bit of sugar. It should take around 5 min to gets puffy.
While it grows, mix the flour and the butter very well by hand to not have any lumps of butter. Add the paprika and the salt and mix them in as well

Add the yeasty milk together with the rest of the milk and knead the dough. The rest of the milk should be lukewarm too, like this it rushes a bit the rising of the dough.
Let it rise for an hour.
Roll it to about 1.5-2 cm thickness and stripe the top with a knife like in the picture below: diagonal lines intersecting each other (the can be straight, too if you prefer that):

Cut it to circles (with a cookie form or a glass). Depending on how big your glass is, the number of pieces can be of course different.
Dab some milk on the top of them and add pinches of coarse salt.
Put it on baking paper in the middle of the oven. Bake it on medium heat (175 °C) for about 25 minutes.
Eat it hot. They can be kept fresh for few days in a plastic bag, once they are fully cooled… if you can restrain yourself from not eating them all.
If you would like to get more ideas from the Hungarian cuisine, except this amazing paprika pogacsa, you can check my category here.