Once you've learned how to make your own tikka masala, it is really a pity to eat it with rice only – learning how to make naan is really mandatory.
And if you are among the ones that love it very spicy, you will certainly need a lassi next to it to "melt" all that capsaicin destroying your tongue. But even if it is not spicy, mango lassi is always welcomed.
Here's how I make both!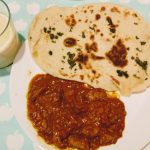 Naan
Servings: 2
Preparation time: 15 min
Waiting time: 1-1.5 hours
Cooking time: 6-8 min
Ingredients
125 g of flour
4 grams of dried yeast
1/4 quarter cup of water
1 tsp of sugar
a heaping tbsp of yogurt
1 tbsp of butter
salt
coriander (optional)
garlic, spicy pepper (optional)
Directions
Dissolve the sugar and yeast in the lukewarm water and let the yeast activate for 10 min.
During this time melt the butter and mix it with grated garlic or spicy pepper, if you wish.
Mix the flour with the salt.
Add in the flour: the melted butter, activated yeast and yogurt.
Mix until well combined then knead for 5-7 min until it is not sticky anymore. Use more flour/butter if needed.
Let it sit until it doubles in size, 1-1.5 hours.
Ideally you should split it in as many portions as you want, depending on the size, roll it in a ball and let it rise for 15 more min. However, I skipped this step.
Roll the dough in a shape that you wish and add the coriander on top.
In a very hot skillet place one portion and cook it on medium high (I used setting 6 out of 10) until the bottom cook. Flip it and press it down a bit and let it cook on the other side.
And here you have it!
Lassi
This is an incredibly easy recipe. Blend in a tall glass a cut mango, 2 yogurts and some water (100 ml max), 1/4 tsp of coriander and you have two portions of one of the most amazing drinks!