Street food is one of the best and most courageous ways of trying the culture of the new country – if you want to experience that from the first hour you are in Romania, stop at corner shop and by a "covrig". Covrigi are the glossy, perfect version of a pretzel. A super interesting combination between the American bagels and the German pretzels: not too crunchy, but crunchy enough, not too chewy, but there is some chewiness combined with this perfect glossiness.
The secret of the glossiness for the Romanian covrig is: sodium bicarbonate.
I will show you a version with butter and one without. The results are pretty similar, just caloric difference.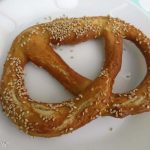 Covrigi
Servings: 6 pieces
Baking time: 20-25 min
Difficulty: medium
Ingredients
350 g of all purpose flour (can be high gluten flour too)
35 g of butter (replace this with 35 grams of water and 2 tbsp of sunflower oil for the low-caloric version)
7 g of dried yeast
210 g of water
1 tsp of salt
1 tbsp of sugar
sesame for the top
30 g of sodium bicarbonate
Directions
In the lukewarm water dissolve the sugar and the yeast, until it foams a bit.
Mix the salt in the flour.
Melt the butter and let it cool down a bit.
Start mixing the flour with the butter and yeast mixture.
The dough will be rather sticky, but keep needing it.
After 10-15 min, it becomes this perfectly satisfying elastic.

The version with no butter will be less sticky. What I usually do is use 330 grams of flour and the rest of 20 grams I use it for kneading. Towards the end I start adding the oil, which also makes the kneading easier:

Cover it with a plastic and towel and let it rise for an hour.
Divide it it 6 equal parts, roughly 90-100 g.
Roll each part into a long tube.
Shape it in a pretzel shape.
In a big pot start boiling the water. Once it boils, put over it the sodium bicarbonate. It will foam vigorously for few seconds.
Boil each covrig in this water for 1 min. They will become slippery and glossy.
Sprinkle generously with sesame (can be poppy seeds and salt).
In the preheated oven at 200 C, bake the covrigi for 20-25 min.
They should look brown and ready to be devoured hot or cold. So here is how the Romanian covrig looks like: