For this pea soup recipe, I got inspiration from Pick up limes. It is remarkably easy and fast to make, vegan, gluten free, healthy and delicious on top of that. Plus the green color of this soup is gorgeous.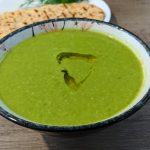 Pea soup
Servings: 4-6 bowls
Cooking time: 20 min
Difficulty: very easy
Ingredients
1 onion
1-2 cloves of garlic
500 g of frozen peas
1 handful of cashew nuts
1 tsp of thyme
1-2 chicken or vegetable cubes
pepper
oil for frying, olive oil works better here
Directions
Soak the cashews in water for a few min, preferably 2 hours.
Fry the onion and garlic in a bit of oil, until they get soft.
Add the peas, cashews, vegetable cubes, thyme, salt and pepper to the pot.
Bring to a boil and simmer for 15 min.
Then blend the soup until it is very smooth.
Serve with a drizzle of olive oil.