Rabbit meat can be a very good replacement if you want to take a break from chicken and rabbit stew is a perfect way to start with. It is a bit more dense than chicken and somehow less fatty, maybe a hint sweater. The way I like to eat it the most is in a stew with many vegetables.
In this recipe I will also talk about a good way to make golden and crispy baked potatoes. American potatoes go well with everything and are one of my favorite side dishes ever.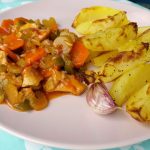 Rabbit stew with baked potatoes
Servings: 4
Cooking time stew: 40 min
Cooking time potatoes: 1 hour
Difficulty: medium
Ingredients
2 rabbit thighs
2 big carrots
3 celery sticks
1 green pepper
1 onion
2 cloves of garlic
1 tomato
1 cup of tomato sauce
thyme
salt and pepper
sunflower oil for frying
For the potatoes
7-8 big potatoes
2 cloves of garlic
4 tbsp of olive oil
salt and pepper
Directions
Peel and wash the potatoes.
Cut them into wedges and place them in a pot. Add salt to taste and cover them with water.
Bring them to a boil and let them boil on medium fire until they are cooked and you can penetrate them with a fork.
While the potatoes are cooking, cut the carrot, celery, pepper and onion.
Place it on medium fire in a preheated pan with sunflower oil and cook them for 5-7 min.
Add the 2 cloves of garlic and the chopped tomato.
Season with salt and thyme.
Add the tomato puree too and let it simmer until the vegetables are almost ready.
While the stew is simmering and  the potatoes are probably ready, let them cool down in a strainer so that the vapors go out of them.
Start frying the rabbit legs until they are nice and golden.
Once they are ready, let them cool down a bit and you can clean the meat, so that the stew is easier to be eaten.
Place the meat back on low fire.
Scratch the potatoes with a fork so that they look a bit crumbled. This will help them to get crunchy.
Place them in a tray in one layer and season with olive oil and pepper. Add two whole garlic cloves, too.
Bake them for 30-40 in the preheated oven at 200 C.
Add the stew on the frying meat and let it simmer together on low fire for 15 min.
Now that you synchronized both, they are ready to be served together.