If you are a fan of creamy soups, this  coconut pumpkin soup should be on your list, too.
It is simple and fast to make and very delicious.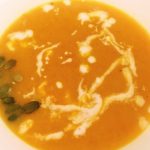 Coconut pumpkin soup
Servings: 3
Cooking time: 15 min
Difficulty: easy
Ingredients
150 g of pumpkin puree
125 g of coconut milk
1 onion
1 clove of garlic
chili flakes (optional)
1 chicken cube for stock
1 tbsp sunflower oil
yogurt and pumpkin seeds for decoration
Directions
Saute the onion in garlic in one tbsp of sunflower oil until they are soft.
Dissolve the chicken cube in 200 ml of water. If you want the soup to be thicker, use only half of the water.
Blend the onion with a bit of stock until smooth.
Place it back on fire and mix in the rest of the chicken stock and the pumpkin puree.
At the end, add the coconut milk bit by bit and stir well.
Add some chili flakes, if you want a hint of spiciness.
Decorate it with yogurt and pumpkin seeds and serve it hot.
If you would like to have more ideas for low carb recipes, you can check our my  recipes here.