The raw energy balls are not only very very easy, but a delicious, high in protein, high in fats, low in sugar snack AND cheap.
Perfect next to your coffee or between meals if you get peckish. You can adapt it based on the nuts and seeds you have in your region, therefore you can opt for the cheapest option that you want.
You can use for getting the oil out of seeds and nuts anything from: walnuts, almonds, hazelnuts, peanuts, sunflower seeds or pumpkin seeds. As for the sweetness you can use raisins, dates, cranberries or any dried fruit that is the cheapest or your favorite.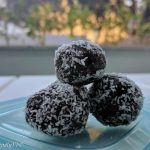 Raw energy balls
Servings: 12 pieces
Time: 10 min
Difficulty: very easy
Ingredients
two handful of raisins (or any other dried fruits you like)
two handful of hazelnuts (in the pictures below I used in one of the mixes one part hazelnut, one part sunflower seeds)
1 tbsp of peanut butter
1 tbsp of coconut powder
coconut flakes for rolling the balls at the end
Directions
Blend the nuts/seeds at high speed with the dried fruits until they start to form lumps together or they get a wet aspect.
Mix in the peanut butter and cocoa.
Form small round balls and roll them in coconut.
Let them rest for one hour in the fridge and start snacking on them 🙂