This red lentil curry is so easy to make, yet so delicious. My inspiration from this recipe comes from Rainbow plant life. I eat the dish mainly as side dish, but it is perfect as main meal next to rice or naan.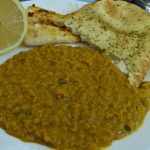 Red lentil curry
Servings: 4-5 portions
Cooking time: 30 min
Difficulty: easy
Ingredients
1 tbsp or minced garlic
1 tbsp of ginger
1 serrano or jalapeno pepper
1 cup of red lentils
1 tsp of turmeric
1 tsp of garam masala
1 tsp of cumin
1/2 tsp of coriander
1 tsp of Indian chili powder
1 cup of broth (I use from chicken cube)
200 g of tomato paste/juice
1 cup of coconut cream
salt and pepper
1 tbsp of coconut oil
Directions
Warm the coconut oil in a pan.
Add the garlic, ginger and pepper.
Once they soften, add your spices.
You can now pour in the broth, lentils and tomato paste and simmer for 20 min.
At the end add the coconut cream and simmer for few more min. If you would like the curry to be firmer, simply add less broth.
Enjoy next to fish or meat or as a main dish next to rice.