The pulled meat is one of my favorite ways of both cooking and eating meat. This dish is very easy, despite taking quite a long time to cook because it requires very little intervention. And the meat always ends up so soft, tender and perfect for adding it to any type of side dish you want.
And the barbecue sauce version is the absolute best.
Here are my other recipes for pulled chicken and pulled beef and pork.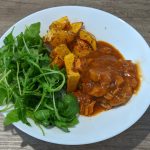 Servings: 6-8
Preparation time: 15 min
Cooking time: 3 hours
Difficulty: easy to medium (because of the cooking tim
Ingredients
600-700 g of any pork meat without bones
1-2 tbsp oil for frying
1 tsp of paprika (your choice if spicy or smoked)
salt and pepper
Barbecue sauce (following Laura in the Kitchen recipe)
1-2 tbsp of butter
1 tsp of paprika (your choice if spicy or smoked)
150 ml of ketchup (I tend to use tomate frito)
some water
1 tsp of chili powder
1 tbsp of sweet paprika
1 tbsp of smoked paprika
2-3 tbsp of brown sugar
1 small onion
2 garlic cloves
2 tbsp of balsamic vinegar
oil for frying
salt and pepper


Directions

For the barbecue sauce, simply saute your onion and garlic in the oil, add the rest of the ingredients, simmer for 20 min on low then blend them at the end. Blending is optional, it is perfectly fine if you do not blend it.
In a spacious pot add the pork cut into big pieces, season with salt and pepper and paprika. I tend to buy tenderloin, but a cut with more fat can be better.

Fry them on medium fire for like 5 min until they get a bit golden.
Pour in the barbecue sauce and bring to a boil.
Reduce on small fire (I used the setting 2 out of 10) and cover with a lid.
Cook for 3 hours and mix occasionally every 30 min. For the last hour cook it without the lid on if you want less sauce in your food. I generally like to keep the sauce to combine it with couscous, potatoes, or any other side dish.




I opted for the picture for a low carb side dish with salad and baked pumpkin, but you can use your imagination and add it next to anything.