Salmorejo is a traditional cold soup from south of Spain. Originally from Cordoba, this cold soup is one one of the main secrets for surviving the hot summers in Andalusia. It is creamy and refreshing, all you need is to try it once and will understand the secret of Spanish summers. As a bonus, it is very fast to make too!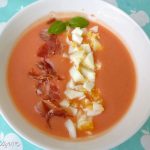 Salmorejo
Servings: 2
Preparation time: 20 min
Difficulty: easy
Ingredients
4 ripe tomatoes – preferably cold
1 piece of dried bread
2 cloves of garlic
4 tbsp of olive oil
1 tsp of vinegar
water to thin the soup
salt to taste
optional for decoration: one hard boiled egg and jamon serrano
Directions
The preparation of tomatoes can be done in two ways. You can do it as I did it for this recipe, simply grate it on a small grater. Or you can blend them in a blender on high speed and then pass the paste through a strainer to remove the seeds and skin. Any way you prefer, the most important aspect is to have no skin and seeds and to have the paste as smooth as possible.
Put the paste in a blender and add: bread, garlic, vinegar and salt. Blend it on high speed for 20 sec. If you don't have dry bread at hand, you can dry it in the microwave. It is important that the bread is dry, otherwise it will form a clay structure.

Start to add some ice water if you want it thinner and blend each time for combining.
Slowly add the olive oil and blend each time you add a spoon.
The soup will slowly change the color from red until it looks like a pale red to orange.
Serve the soup immediately if the tomatoes were cold or leave it few min in the fridge to cool down. Decorate it with egg and jamon and enjoy the rest of the summer day with this refreshing smooth soup!