A bit of a depressing title… and I am even planning of series of desserts from the communist era :D. But there is a big advantage to all this: they will be all cheap and tasty. The communist era in Romania manifested through a huge shortage of products, therefore people had to be very inventive with only a couple of ingredients available and use all the products even if they weren't very fresh anymore.
All these recipes will make nostalgic most of the Romanians, since we all had them as kids. I was really happy to remember them and cook them myself.
The one from today is called "macaroane cu brânză" and it is a pasta based dessert.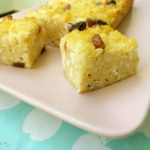 Sweet pasta with curd and raisins
Baking time: 35 min
Difficulty: easy
Instructions
120 g of pasta of your choice
100 g of curd
2 eggs
50 grams of raisins soaked in rum essence
1 vanilla pack
4 tbsp of sugar
120 g of yogurt (can be combined or replaced by sour cream)
1 grated lemon
butter and flour for the baking pan
Directions
Boil the pasta according to the instructions on the package.
Mix in the pasta all the ingredients: mixed eggs, yogurt, sugar, vanilla sugar, soaked raisins, curd and the grated lemon skin.
Spread a thin layer of butter in the baking pan and cover it with flour. I used a 26 cm form.
Pour in the mixture and add a few pieces of butter on top. It will help the cake to not dry and also get a nice golden color.
Bake it for 35 min and 180 C.
Can be served both hot and cold. Simple, cheap and delicious!