The peppers filled with minced meat (ardei umpluti) is a great and savory recipe that is even relatively easy to make. I always associate it with summer and a light food, despite the meat being a bit heavy, but it is for sure a super flavorful dish.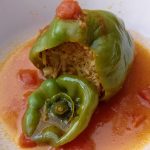 Peppers filled with minced meat (0.84 eur/portion)
Servings: 5
Cooking time: 1 hour 15 min
Preparation time: 45 min
Difficulty: medium
Ingredients
500 g of minced meat (beef with pork) (3 eur)
5 peppers (any color works) (2 eur)
1 can of diced tomatoes (1 eur)
1 onion (0.2 eur)
70 g of rice
1 tbsp of tomato paste
parsley
thyme
sweet paprika
2 laurel leaves
salt and pepper
Directions
Cut the cover of the peppers carefully and scoop out all the seeds.
Make sure they fit in the pot you want to use.
Dice the onion and saute it until soft, then add the washed rice and cook it until all the water is evaporated.
Mix the meat with the onion an rice then add all the rest of the  ingredients: thyme, parsley, tomato paste, paprika, salt and pepper. Mix it well.
Fill in the peppers with the meat mixture.
Add the peppers in the pot, which contains already the can of tomatoes and laurel leaves.
Cover the peppers with their top.
Fill in the pot with extra water until it is 2/3 full.
Bring to a boil then cook on small to medium fire for 1 hour or until the peppers are soft and the meat is cooked.
Serve hot by itself or adding sour cream on top.