Sarmale are a great meal, though it can be a bit heavy, so this vegan version comes to improve that. In my original version that you can find here I used fresh cabbage and boiled it in lemon. However, for this version the real pickled cabbage works best.
Here's how to make it: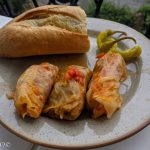 Vegan sarmale
Pieces: 10-12
Preparation time: ~40 min
Cooking time filling: 20 min
Cooking time sarmale: 1 hour
Ingredients
10-12 leaves of pickled cabbage
1 onion
4 medium carrots
6-7 mushrooms
70 of rice
150 ml of tomato juice
1 tsp of thyme
1 tsp of paprika
parsley (optional)
salt and pepper
a bit of sunflower oil for frying
laurel leaves and few whole peppers
Directions
In a bit of oil start cooking the dices onion and grated carrots until they soften, 5-10 min. Add a bit of salt.
Add the diced mushrooms and let them cook until they reduce, 3-4 min.
At this point you can add the thyme, paprika, washed rice, tomatoes and a bit of extra water.
Let it cook half the time the instructions on the rice say. Season with salt and pepper to taste.
Let the filling cool almost completely.
For the assembly, make sure the leaves are not containing the hard part.
Place a spoon of the filling on the bottom part of the leaf.
Fold in the right and the left and start rolling from bottom to top.
Shove in the endings and the "sarma" is ready.
Place the cut parts on the bottom of the pot, add the laurel leaves and whole pepper.
Arrange the sarmale in the pot, add 2-3 tsp of diced tomatoes or tomato paste and cover with hot water, until you cover them.
Bring to a boil and then cook with a lid on on small fire for 1 hour or until the rice is fully cooked.