Varza calita, translated as stewed or sauteed sauerkraut is a very traditional Romanian dish. It can be served both as main meal or as side dish. And it is a bomb of umami: it contains sauerkraut which is already packed with umami, bacon and sweet tomato paste.
It is a bit time consuming in the beginning, but it is so delicious that it is worth every minute.
As usual, my inspiration for Romanian dishes is Retetele Mihaelei.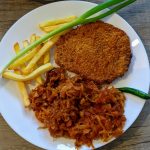 Varza calita
Servings: 2 (you can easily double the ingredients for 4)
Cooking time: 45 min
Baking time at 180 C: 25-30 min
Difficulty: easy to medium
Ingredients
500 g of sauerkraut
1 onion
50 g of bacon
1 tbsp of sweet tomato concentrated paste
1 laurel leaf
1/2 tsp of thyme
1 tsp of sweet paprika
1/4 tsp of spicy paprika
1 beef stock dissolved in 200 ml of water
salt and pepper to taste
Directions
The best pot to make this dish in is cast iron. Start melting the chopped bacon on very low fire until it releases almost all the fat.
Add the finely chopped onion and cook it on low fire as well until it gets soft and glossy.
In the meantime, squeeze as much liquid as you can from the sauerkraut. This will help the sauteing to be faster, since there is less liquid you have to evaporate.
Add the sour cabbage one hand at a time and mix it in continuously.
Once the cabbage is golden you can add: the dissolved beef stock, sweet and spicy paprika, tomato paste, thyme, salt and pepper to taste. Be careful with the salt – the cabbage and stock are already salty, so you most probably won't need to add any extra salt.
Mix it all well and add it in the preheated oven at 180 C for additional 25-30 min.
It is ready to be served hot as is. Or as a side dish next to some meat. It also works great next to some polenta with sour cream and a fresh spicy pepper.