This omelette is a Russian version… or at least the only omelette I used to receive while being in Russia. It is quite unique and delicious so I think it is fine if it spreads in the world like "Russian", even if this might not be its official name or only the family where I lived cooks it only.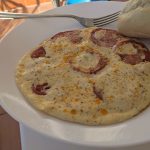 Russian omelette
Servings: 2
Cooking time: 8-10 min
Difficulty: very easy
Ingredients
3 eggs
5 tbps of milk
1 tomatoes
salt and pepper
oil for frying
Directions
Beat the eggs.
Add in the milk – the addition of milk will change the consistency of the omelette, but also give it a nice milky taste. Plus, you save one egg. Add the salt and pepper.
In the frying pan, fry the sliced tomatoes in the oil, until they get tender.
Add the egg mixture.
Immediately place a lid on the pan and cook the omelette on low to medium fire until it foams a bit on the top and all the surface looks cooked.
Slide it in a plate and it is ready to be served.