This beetroot soup is a sour and hot version, a pretty good combination even for summer. I am using the Romanian bors for making it sour (https://en.wikipedia.org/wiki/Bor%C8%99_(bran)), but lemon juice can work just as well. It is very fast to make, healthy and refreshing!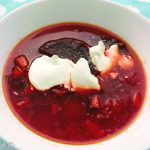 Beetroot soup
Servings: 4
Cooking time: 20 min
Difficulty: easy
Ingredients
4 boiled beetroots
2 stalks of celery
2 carrots
1 red onion
1 small red pepper
2 tomatoes
1 lemon
sour cream
parsley or lovage
salt to taste
Directions
In a pot pour 1-2 tbsp of oil and start sauteing the onion, carrots, pepper and celery and add the tomatoes at the end (preferably without the skin). Saute for 5 min.
Add 1 l of water and bring it to a boil.
Pour in the cut beetroot and let it simmer on medium fire for 5-7 min. At this point add the salt, too.

Add the sour choice (lemon juice or bors) and the parsley (or lovage).
Serve hot with a couple of teaspoons of sour cream.