These pretzels or perec are just the most classical snack or street food for most kids that grew up in the Hungarian or Romanian culture. They are so old school, simple and delicious and you can never have enough of the melted salt on the top.
Definitely not a light or diet snack, but a perfect snack for holidays or when your friends are visiting next to a beer (mandatory).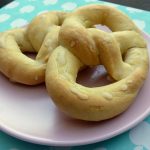 Perec
Servings: 8
Baking time: 20-25 min
Difficulty: easy
Ingredients
500 g of flour
25 g of fresh yeast (or 7 g of dried yeast)
250 g of milk
100 g of butter
1 tsp of salt (can be more if you want it saltier)
For the glazing
2 tsps of salt
100 ml water
flour until it gets the consistency of sour cream
Directions
Mix the flour with the salt and room temperature butter.
Activate the yeast in a bit of lukewarm milk.
Add the activated yeast and the rest of lukewarm milk in the rest of the mixture and knead until the texture becomes elastic (~15 min):
Let the dough rise in a warm place until it doubles in size:
Cut the dough in 8 (preferably equal) parts.
Roll a tube from each part, then shape it in an oval, then twist the open ends twice like in the pictures. Press the ends on the opposite side until they are fixed to the other part of the dough:
While the perec are resting for extra few min, mix the glazing, making sure there are no flour lumps left.
Start baking the perec at 175 C for 15 min.
After 15 min take them out and place the glazing on them.
Bake them for additional 4-8 min, or until they get slightly golden. If any of the perec disappears in the meantime, that is perfectly normal:
Eat them fresh and do your best to not burn your tongue if you are too impatient. They are soft, pleasantly salty and perfect snack for a beer.