Making jam can be a pretty intensive task and can take one full day of being around the pot and mixing. This strawberry jam recipe requires very little boiling and active time around  it, but more waiting time in the fridge for the sugar to be absorbed. So definitely more comfortable to make it and the results are great.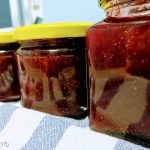 Strawberry jam
Servings: 3 medium jars and 400 ml of syrup
Cooking time: 40 min
Resting time: 48 hours
Difficulty: easy
Ingredients
1 kg of fresh strawberries
1 kg of sugar
1 lemon
Directions
Remove the leaves from the strawberries and wash them thoroughly.
Depending on how big you want the pieces to stay, cut your strawberries in half, quarters or even let them whole if they are tiny. Make sure your pot is big enough, the mixture will be foamy during the boiling.
Squeeze the juice from one lemon.
Pour the 1 kg of sugar and the lemon over the strawberries, cover them with the lid and place them in the fridge for 24 hours.
After 24 hours the majority of the sugar will be absorbed in the strawberries.
Carefully scoop out 450 g from the juice and reserve it.
Place the pot on medium fire and bring it to a boil. As mentioned, the jam will foam so make sure you are taking the foam from it (not necessary to be super thorough) and mix in the pot at the same time, otherwise the jam will burn.
From the moment of boiling, you should keep the jam on medium fire for 25 min, mixing continuously. The mixture will reduce significantly:
Let it cool for a bit and put it in the fridge for additional 24 hours. The reason is that the heat did not have time to penetrate the middle of the strawberries and, in order to keep them more or less whole, they require additional soaking in the sugar.
After the 24 hours have passed, boil it again for 15 min mixing continuously until you put a couple of drops on the plate and they coagulate in 30 seconds to the desired thickness.
Place them in clean jars immediately for sterilization and place them upside down – this will help the sterilization plus sealing the lid. Keep them like this until they are completely cooled down.

They can be served after 24 hours… or immediately if you are impatient like me :).
As for the reserved syrup, boil it for 2-3 min, take the extra foam and keep it in the fridge for making really refreshing strawberry lemonades with sparkling water and ice!
If you would like more ideas for lemonades, you can also check my post: 3 simple home-made lemonades to refesh your summer