This white beans spread (called in original "fasole batuta" or "fasole sleita") is a very common Romanian dish cooked during the fasting period. In other words, vegan.
It is very creamy and healthy, low in fat and goes great both as a spread, but also eaten by itself next to some pickled vegetables.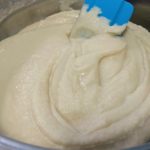 Beans spread (0.35 eur/portion)
Servings:3-4
Waiting time: 12 hours
Cooking time beans: 1-2 hours
Difficulty: medium
Ingredients
2 onions (0.2 eur)
1 carrot (0.1 eur)
200 g of beans (0.5 eur)
1/2 can of chopped tomatoes (or the grated pulp from 2 tomatoes) (0.5 eur)
salt and pepper
1 tsp of sweet paprika
1 tbsp of oil
2 cloves of garlic (0.1 eur)
1 tsp of bicarbonate soda
Directions
Wash well the beans. Place them in a pot and pour over the cold water (500 ml should be enough) and a teaspoon on bicarbonate soda.
Keep them in the fridge min 12 hours. They will soak in most of the water.
Wash them well. Place them in a big pot with an onion and a carrot and with 800 ml of water.
Bring to a boil and then add a teaspoon of salt.
Let it boil on small fire until they become very soft.
You can take out the veggies you don't want to use further.
Take out a bit of the liquid, but keep in like 1 cup maximum, still.
Grate the garlic cloves and add them in the beans and blend them until they are becoming like a smooth paste:
Caramelize some onion. The fastest method to do this  is to add from the beginning 1-4 cup of water and cover it with a lid. Let it steam for 10-15 on medium fire. The onion will get very soft this way. Then remove the lid and have it on medium to high fire and mix in it until it gets to the desired caramelization.
Add some olive oil and half a can of chopped tomatoes. Let them combine for 10 min.
At the end add a tsp of paprika.
Place some bean paste in a pot and add the onion mixture. It is great hot, but especially cold.
You can spread it on bread or it it by itself with some pickles.