Soda bread is a common bread recipe nowadays, since it fits really well the shortage of yeast. However, I have to say from the beginning that the ingredient that makes the bread taste like bread is yeast.
Soda bread is a good emergency replacement of bread and, besides, really fast and easy to make. However is not the mist faithful replica of bread. I find it that it goes really well with sweet things, maybe because my brain associates the baking soda with backing cookies.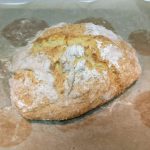 Soda bread
Baking time: 20 min
Difficulty: easy
Ingredients
550 g of all purpose flour + few extra tbsp for shaping the bread
500 g of milk
1-2 tbsp of lemon juice or vinegar
1/2 tsp of bicarbonate soda
1/2 tsp of salt
Directions
In order to make the butter milk: all you need is to put the vinegar or lemon juice in the cold milk and let it rest for 15 min. It will thicken a bit and the acidity will allow to the bicarbonate soda to activate while baking.
The trick for this recipe is to prepare it very fast, so that the bicarbonate soda activate during baking, not before.
Mix the flour with the salt and the soda and poor in the milk.
Mix until they are combined.
Place on the table with some extra flour and knead maximum ten times or until you can shape it in a bread shape.
Place it on a baking sheet and cut a cross in the middle.
Bake it at 200 C for 20 min.
Serve it hot or in the next 1-2 days. It freezes really well, so you can freeze it and then simply wrap it in a damp paper towel and microwave it for 30 seconds at 900 watts.