This recipe is an autumn version of tiramisu. I certainly think of pumpkin and colorful leaves when I say "autumn" and this recipe contains at least one ofthem :D.
Tiramisu is such a popular dessert and there are so many version. I do have my own recipe of tiramisu and it never contains whipped cream. That is my own secret: in order to make it really creamy and less heavy, I never put whipped cream in it. But I replace it with whipped egg white. Lighter and healthier… as healthy as a tiramisu can get. What's for sure is that it is delicious. (For the classical recipe, I need 3 whole eggs for 250 g of mascarpone. For this recipe only 1 egg, since it contains pumpkin puree).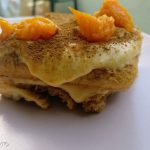 Autumn tiramisu
Servings: 8
Preparation time: 25 min
Resting time: 15 hours
Difficulty: easy
Ingredients
200 g of ladyfingers
250 g of mascarpone
100 g of pumpkin puree
1 egg
1 tbsp of powder sugar
3 cups of coffee
1-2 tbsps of rum (optional)
cinnamon powder
Directions
Make 3 cups of coffee. Your choice if natural or instant. Let it cool down completely.
You can add rum if you want your tiramisu to have a bit of alcohol.
Due to the pumpkin, the cream of this recipe requires almost no sugar. If you want to make the egg yolk a bit fluffier, add one tbsp of powder sugar and mix it until foamy.
Add the mascarpone and mix them together. The mascarpone should be from the fridge.
Add the pumpkin puree and mix it in, too. I make my own puree by blending the baked pumpkin. Tough process but contains no added sugar, at least. (I forgot to take a picture of this stage).
Add the whipped egg white. (You can see the cream is more orange than before).
Dunk the ladyfingers in the cold coffee for 4 sec and place one row on your plate.
Add one layer of the cream.
Add another layer of ladyfingers.
And another one of cream.
Sprinkle cinnamon.
You can decorate with pumpkin puree if you have any left. Try to be more patient with the decoration than I am.
Let it rest for minimum 12 hours and enjoy!