I will call them pumpkin "fries" so that I don't start a trend with calling all of my food "autumn x". It is my second year living in a place with no autumn, no colorful trees… so I miss autumn. It is not that sad, the leaves don't fall simply because they get enough light and so do I. So coping differently with my autumn crave is healthy… or at least I think so.
This snack is a healthy and low carb version of fries. They contain 5.4 times less calories than the potato fries. Not the same kick for sure, but a good replacement choice from time to time. Besides an incredibly low amount of calories that pumpkin has (26 cal in 100 g, not counting the oilve oil in the recipe), it will also provide you with a lot of vitamins A and C and minerals (copper, iron and some decent amount of zinc).
The hardest part of this recipe is cutting the raw pumpkin and peeling it. One you are safely over that step, the rest is super easy.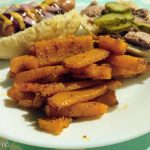 Pumpkin fries
Servings: 2
Baking time: 25 min
Difficulty: medium
Ingredients
200 g of raw pumpkin
1 tsp of powder garlic
1 tsp of powder onion
1/2 tsp of curry
1 tsp of paprika (sweet or spicy)
1 tbsp of olive oil
salt to taste
Directions
Cut the pumpkin into fries shape and mix in the salt, paprika, onion, garlic and oil.
Spread them in one layer on one baking sheet.
Bake them for 25 min at 175 C in the pre-heated oven and they are ready to be served as a snack or side dish!

If you would like to have more ideas for low carb recipes, you can check our my  recipes here.