This sweet potatoes recipe combines the sweetness of the potato with nutmeg and a savory taste of feta and basil. It is great as a side dish next to some meat or just fully by itself as a healthy and vegetarian meal.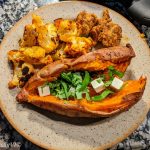 Baked sweet potatoes
Servings: 2
Baking time: 50 min
Difficulty: easy
Ingredients
2 sweet potatoes
ground nutmeg to taste
1 tbsp of butter
few cubes of feta cheese
fresh basil
salt and pepper
olive oil for baking
Directions
Cut the potatoes lengthwise a few time, not too deep. Or poke it a few times with the fork, so that it won't explode in the oven.
Place it on a parchment, sprinkle olive oil and bake at 220 C for 45-50 min. I prepared this recipe together with my baked cauliflower recipe, which needs the same baking time.
Take out from the oven and make sure they are done in the middle, by poking it with a fork.
Cut in half and add the butter, nutmeg, salt and pepper.
Place the feta cheese in the middle and the freshly cut basil.
Enjoy these great sweet potatoes with nutmeg.