This cauliflower recipe is very easy to prepare. a bit long to bake, the the wait is well worth it. You can snack on it as is, use it as a side dish, eat it warm or cold.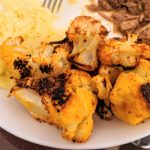 Baked cauliflower
Baking time: 45 min
Baking temperature: 220 C
Ingredients
1 big cauliflower

3 tbsp olive oil

1/2 tsp turmeric

1/2 tsp smoked paprika

lemon juice from half of lemon

1/2 tsp chilli powder or chilli flakes

1 tsp of garlic powder

2 tbsp soy sauce (optional)


salt and freshly ground black pepper
Directions
Break the cauliflower florets into the desired size.
First pour the olive oil then all the spices and mix it well.
Bake it for 45 min in the preheated oven at 220 C.
Ready to serve!